Have you ever dreamed of living in Brazil while working remotely for international companies? Or even becoming a digital nomad and getting paid in Dollars or Euros?
That is totally possible now!
Due to the rise of the Dollar and Euro in comparison with the Real, and an increase in investments in technology, working remotely for international companies became a reality for many Brazilians. You, developer, after the pandemic, must have perceived the increase of popularity in remote work due to the flexibilization of the companies and employees.
The job positions for remote work posted at Pluo had an increase of over 400% in professional demand.
In this article, I will present to you some tips about how to land a job internationally and how to make the best of it.
Let's get it going!
Choose a company with a compatible timezone to work remotely
Unless you are an owl, I believe that you would like to work remotely while enjoying your free time with your friends and family. Remember that work-life balance is essential for your life.
Companies that work remotely with a synch culture tend to hire people with a similar timezone to the company base, allowing meetings to happen with no further limitations or difficulties.
But if the company that you are willing to work for has an async culture, the timezone compatibility is far more flexible. You can work with up to 12 hours of time difference without any major damage to the operation of the company or your work.
Usually, companies that work asynchronously have two ways of communication: Real-time (like Slack) and asynchronous (email)
Learn how to communicate asynch
How many times you have received a "Hi, how are you?" and the person just waited for you to answer before actually saying what they need?
Or even worse. How many times did you go to a meeting that could be a single email for everyone involved?
A remote company with a great async culture tends to better value your time.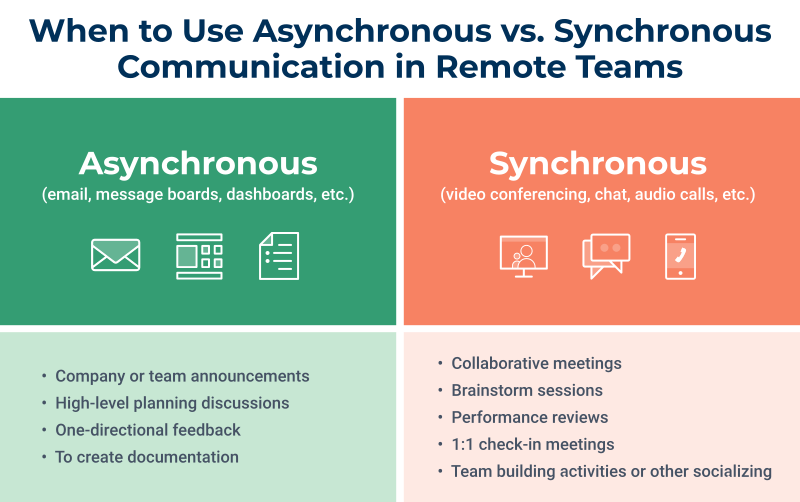 This image from Smart Sheet shows when to use each type of communication. Helping you to remember that it is not possible to be completely async all the time.
Find a company with the right culture for you to work remotely!
Do you know what motivates you to choose between remote or office work?
And about the mission of the company where you are looking forward to work?
Your preferences and moment in life have to guide your professional choice. If you are looking for a company with a strong social culture, it is common that they will not be able to offer a competitive salary in the market.
You need to have a perfect understanding of the kind of work that the company you are applying to does, before deciding if you move forward or not to work with them. And that applies to every kind of work, remote or office.
Read your contract and understand the terms.
Sometimes when you are working remotely, the contract can create some doubts. Especially for being written in a foreign language with juridical terms that you are not familiar with. Do not be ashamed to search and ask.
Every time you have a question, seek the HR department of the company to better understand the terms, with a lawyer or even friends that happen to work in the same company that you are going to. Understanding the contract at the fullest will help you in the future to understand expectations, demands, rights, and deeds.
Countries have their own work laws and each one of them has different interpretations about the contract. Because of that, be sure to certify that your contract covers the terms that you are interested in and make crystal clear what kind of work you will be doing.
Do you have an interest in knowing more about opportunities to work abroad internationally?